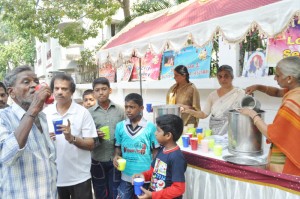 Where would you expect someone to offer you a fee glass of buttermilk on a summer's day?
If you are walking down Dr. Ranga the next two weeks, you will come across a few good Samaritans.
The devotees of Sri Sathya Sai Seva organisation have been distributing butter milk at a pandal on Dr. Ranga Road from May 1.
They pool their resources, source curds or make them and prepare the delicious, simple drink that quenches thirst.
The volunteers say they have been distributing buttermilk at summertime for the last 10 years.
"We normally begin when agninatchathiram period starts and go on till the end of the month," says a devotee who wanted to remain anonymous.
This time the pandal was set up on May 1 as it was Eswarambal day.
The distribution will be on till May 29 and takes place from 10 a.m. to 1 p.m.
About five Sai samithis have joined hands and members take turns to distribute buttermilk every week.