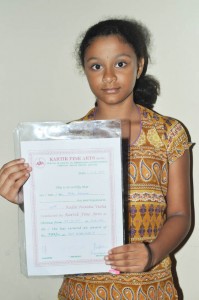 Apoorva Ashok, a 6th Std. student of Vidya Mandir, Luz has been awarded the second prize for the 'Best Child Artiste' on stage.
The award was presented at the recent Kodai Nataka Vizha finale event hosted by Kartik Fine Arts, a Mylapore sabha.
The prize was for her role in "Shyamalam", a play by Dummies Drama. The award was given to her on June 1 at Narada Gana Sabha.
Kartik Fine Arts gives away these awards at the end of its annual drama fest that is held in summer.
Apoorva is a resident of Mylapore and lives at 49/12, Dr. Ranga Road, Mylapore. Ph: 90030 49858.
Suraj and Karthik A. Bhatt were recently awarded the "Raadhu's Youth Excellence Award" instituted by Raadhu's Drama Academy, a Mylapore based Tamil theatre body.
The award was instituted for the first time and seeks to recognise and encourage youngsters entering Tamil theatre.
The award was presented at Sri Krishna Gana Sabha on May 20.
Karthik resides at 85, Karaneeswarar Koil Street, Mylapore. Ph: 99622 28077.
Suraj is a resident of 17/4, Sri Lakshmi Kamkshi Apt., Kamarajar Salai, R. A. Puram. Ph: 98848 45750.
Photo below shows Suraj, theatreperson Koothapiran, Y. Prabhu, Secretary, Krishna Gana Sabha, Karthik Bhatt and Kathadi Ramamurthy.