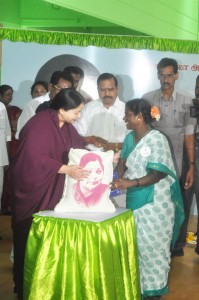 Media crews and AIADMK party members descended at the south end of TTK Road in Alwarpet on Wednesday morning (June 1) for what was chief minister J. Jayalalithaa's first official public event – a formal launch of the free rice to eligible ration card holders.
The TUCS store located on the edge of Sriram Nagar on TTK Road was whitewashed and got a new coat of paint, the cobwebs, the dust and the junk was gone and a pandal came up on the portico of this old house turned ration shop.
AIADMK party flags and thoranams were strung on all the roads leading to the venue.
A small bunch of ration card holders, mostly women were chosen to receive the first set of rice bags and they turned up in their festival best. As did the local AIADMK party leaders.
As peak hour traffic increased on this busy road that links the far end of R. A. Puram and Nandanam with Alwarpet, policemen did their best to keep the traffic flowing – Jayalalithaa has given orders that normal life should not be disturbed much when she travels or is at an event.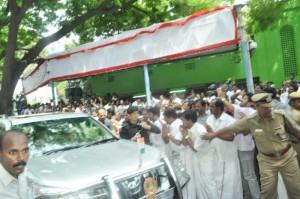 A group of state ministers, MLAs including Mylapore MLA, Rajalakshmi and state bureaucrats were at the venue. A shade past 10 a.m. Jayalalithaa arrived, greeted by the cheers of her partymen.
In minutes, she went about handing over the huge rice bags which sported a large print of her visage. And then she was off to the Secretariat.
The women and men who received the first bags of rice could not hide their excitement. They took out hands full  of rice and declared that it seemed to be of good quality. (In the past, people had been critical of the rice drawn at ration shops saying it wasn't good enough for consumption).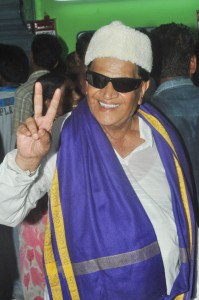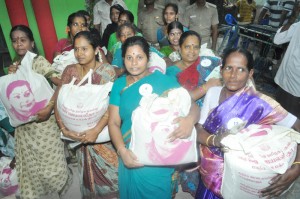 Seen in the crowd was a big-made man dressed like MGR, dark glasses, shawl, fur cap and all. Photographers snapped him.
As the growing traffic roared on TTK Road, it was back to business at the TUCS ration shop that was abuzz this morning.