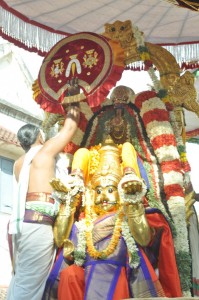 The annual Brahmotsavam at Sri Vedantha Desikar temple, Mylapore will be held till June 11.
Daily there will be a procession in the morning and in the evening.  Thirumanjanam will be held at 10 a.m.
Golden garuda vahanam was held on June 4 at 6 a.m.
June 7: Venugopalan Thirukolam at 6.30 a.m. and Yaanai Vaahanam (with Yeasal Sevai) at 9.30 p.m.
June 8: ther at 5 a.m.
For details contact the devasthanam at 24953799