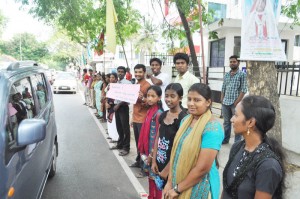 The Catholic Church has been celebrating the 2010-2011 period as the Year of The Youth.
Events were also held in the Madras-Mylapore diocese which has its headquarters in San Thome.
On June 5, the finale of the Year of Youth was held at the San Thome Higher Secondary School.
The youths from the various churches in the Madras – Mylapore diocese participated in this special programme.
They formed a human chain from the National Shrine of St. Thomas to the School to promote environment awareness in view of World Environment Day.
Tamil Nadu Assembly Speaker D. Jayakumar flagged off the  sports and cultural activities that were organised for the youth. He spoke on this occasion.
A debate on the topic 'Environment awareness' was also held.
Dr. A. M. Chinnappa, Archbishop of Madras-Mylapore and Auxiliary Bishop, Dr Lawrence Pius spoke on the occasion and distributed the prizes to the winners.
This event was organised by Fr. Clement, Diocese Youth Director and Fr. John Andrew, San Thome Vicariate Youth Co-ordinator.
All the participants pledged to protect their natural surroundings by signing on a large banner that was displayed for this purpose.