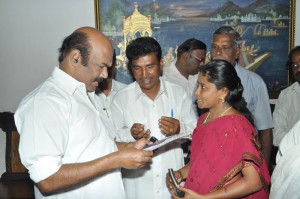 The newly elected Speaker of the Tamil Nadu Assembly, D. Jayakumar is a resident of San Thome.
Jayakumar moved his residence from north Madras to Leith Castle South Street sometime ago though his base is in the coastal neighbourhoods of Royapuram.
Jayakumar, who is a AIADMK party loyalist was elected unopposed as the Speaker of the newly-elected body.
He was elected from the Royapuram constituency in the April 2011 election. He has been MLA many times. He has also been a state minister handling different portfolios at different times.
He spends much of his time in north Madras and says he is available at his San Thome place late in the day and on weekends.