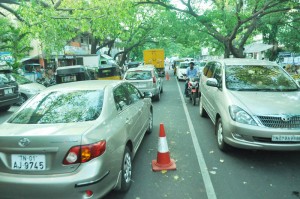 Traffic Police reversed the traffic system in the Alwarpet and Abhiramapuram area all of a sudden earlier this week (on June 8). They reintroduced the two way traffic on C. P. Ramaswamy Road and on the south side of TTK Road.
Appropriate changes were also made in the link roads and streets in this neighbourhood.
The sudden reversion created some confusion but things fell in place after policemen stationed at key junctions directed the traffic and briefed motorists.
Traffic Police had created a 'one way' system on both these key roads hoping that a 'one way' flow would make it easier to drive in this area.
But the police did not hold review meetings with the local community and protests and complaints mounted.
The 'one way' may have eased the flow in some areas but many inner streets bore the brunt of vehicles that took 'short cuts' to their destination.
Mylapore MLA Rajalakshmi says that she will be analysing the impact of the current traffic system in the Luz region and go through feedback from Mylaporeans.
This is another issue which has bothered the community.