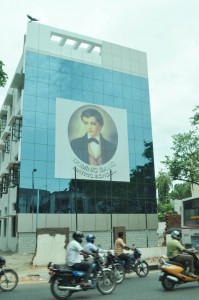 The feast of Dominic Savio Matriculation School was celebrated on July 6. There was a special Holy Mass held at the auditorium in St. Bede's A. I. Hr. Sec. School. This was followed by cultural events based on the life of the school's patron saint.
This school, run by the Salesian priests used to be a feeder school for St. Bede's.
Now, this school has been upgraded to std.10 this year.
The school has a new building equipped with biology, physic, chemistry and computer labs, AV hall and a library.
"We follow the Matric. Board syllabus", says Prateeba Francis, Asst. Head Mistress of the school.
The school was started in 1957 as a preparatory school and slowly developed its primary sections.
The golden jubilee of the school was celebrated in 2006 – 2007. The school is located in San Thome High Road, opposite St. Bede's. Ph: 2498 5396.