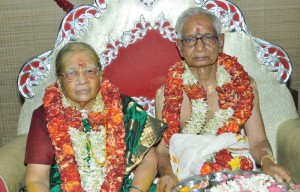 The sathabhishekam of S. Bethavandu Chettiar was celebrated along with his wife B. Pankajam Ammal on July 9.
Bethavandu Chettiar was born in 1931 in Aduthurai, a small town near Kumbakonam.
He was the eldest son of Rama Chettiar and Alamelu Ammal.
His father passed away at a young age and Bethavandu had to take care of the family as he was eldest of four children, his family said.
With difficulty he managed to finish his SSLC and started working as clerk in a local rice mill at Tirucherai near Kumbakonam.
He later joined as a junior clerk at Salem Collective Weaving Centre in 1950 (Tamil Nadu Handlooms – Co-optex). He worked for Co-optex for 38 years.
He was married to Pankajam in 1956 and had four sons and two daughters. He retired as Senior Manager (Audit) in 19888.
Bethavandu had a passion for acting and had the opportunity to act in many dramas that were conducted during the handloom exhibitions at Coimbatore.
The couple are residents of R. A. Puram. They reside at TA, Jains Dhejasvir, 12, Jeth Nagar, Ist Main Road, R. A. Puram. Ph: 2461 3190.