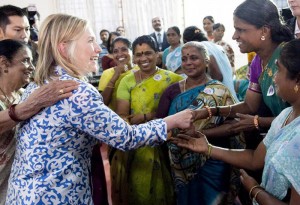 US Secretary of State Hillary Clinton visited the Mylapore-based NGO, Working Women's Forum (India) on July 20 during her visit to Chennai.
The founder of WWF, Dr. Jaya Arunachalam introduced her to the women entrepreneurs from the urban and rural areas.
Hillary Clinton delivered a speech and interacted with the women present there.
She said that Goldman Sachs, a global financial company has decided to support a training program through the Indian School of Business to help self-help groups to bring in knowledge and skills to take their business from the village level to the cities.
She said that the government of United States and the Government of India will establish a regional training program at the Asia University of Women to spotlight the success of the panchayat programs and train more women to be local leaders.
She also added that she would continue working  with this NGO on campaigns on violence against women.
She also had a look at the photos and charts of the current projects undertaken by the members of the NGO.
The Forum works for women's healthcare, prevention of female infanticide, education for adolescent girls, strengthened productive role for women, advocating two child norms and programs for taking care of old women through insurance or social security.