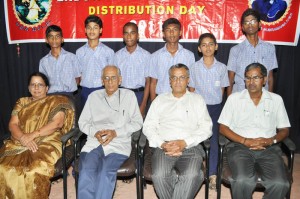 Scholarships to the value of over three lakh rupees were distributed to selected students of P. S. Hr. Sec. School in Mylapore on July 22.
Over 300 students received the awards, ranging from Rs.300 to Rs.1500, all of which have been instituted by organisations, alumni and benefactors over the years.
Vincent D' Souza, Editor, Mylapore Times distributed the scholarships at the morning session while K. V. S. Gopalakrishnan, former Spl. Director of the Intelligence Bureau distributed them in the afternoon to senior students of the school.
M. Ramji, Secretary of the P S Educational Society says that the scholarship funds have been raised to a corpus of Rs.56 lakhs as more and more alumni have come forward to donate money.
He says he hopes to raise funds for two more projects – to provide a morning meal to poor kids here and to give funds to students who want to pursue college education.
Seen in the photo (L – R) top row : M. Ravi, Nawful Altaf, Dinesh Kumar, J.S.Syed Jowher Zathiq, K. Monish and G. Venkatesh. Bottom: M. Malini, Headmistress, M. Ramji, Secretary, K.V.S Gopalakrishnan, chief guest and T. Padmanabhan, Assist. Head Master.