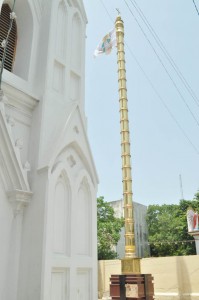 A new flag mast has been erected at the National Shrine of Saint Thomas, San Thome.
This new pole is 60 feet tall and has a diameter of 11/2feet.
The core of the pillar is made of concrete and iron rods and this core is covered with brass fittings.
The basement is made of granite, says Rajasekar, the person who is overseeing the erection of the pole. He is based in Tuticorin.
This flag mast is in the style of the masts at Hindu temples.
Many churches in coastal and southern Tamil Nadu sport such traditional flag masts.
Fr. Kanikairaj, parish priest at the San Thome cathedral says that the new mast is a donation made by a Catholic from Kanyakumari.