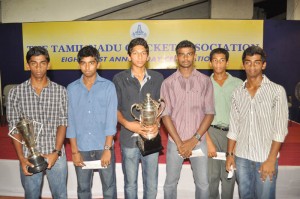 Tamil Nadu Cricketer Association (TNCA) held its annual day last week. At this functio, awards were presented to cricketers who had excelled at the state, district, college, club and school levels.
Six cricketers from St. Bede's A. I Hr. Sec. School, San Thome stood out in the 2010 – 2011 season.
Some got awards and some scholarships.
In the photo are (L-R) B. Aparjith, B. Vasanth, M. Shahrukh Khan, A. Aswin Crist, Darryl S. Ferrario and B. Indrajith.