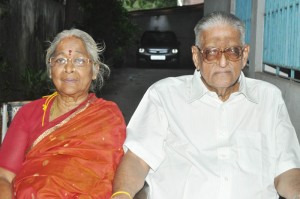 The Sathabhishekam of T. R. Mani Sahasranaman, senior advocate was celebrated along with his wife Kamakshi on June 26 at the S. G. S. Sabha Kalyan Mantap, T. Nagar.
Mani Sahasranaman is a resident of Mylapore since 1962.
He was born into a family of lawyers in Tenkasi. His did his schooling at the District Board High School, Tenkasi.
He completed law from Law College, Madras in 1953.
He joined as an apprentice to K. S. Sankara Iyer and later joined him as his junior.
He was married in 1954 to Kamakshi.
He was designated as the Senior Counsel in 1987 and has had several distinguished juniors under his him. Among them is Justice K. Sampath (retd.), Justice V. Ramasubramanian and Justice R. S. Ramananathan.
He was the executive committee member of the Bar Association of India from 2002 to 2004.
He has also delivered several guest lectures at the State Judicial Academy for the training / reorientation program for judicial officers.
He has a keen interest in education and social service. He has been the member of the National Boys and Girls Education Society, Mylapore for the last 25 years. Now, he is the president of the society.
This Society runs the Lady Sivaswami Ayyar Girls H. S. School, Sir Sivaswami Kalalaya S. Sec. School and Sir Sivaswami Kalalaya H. Sec. School.
He is also the vice – president of the South Indian National Association.
He is a resident of 23, Dr. Rangachari Road, Mylapore. Ph: 2493 6151, 2495 1904.