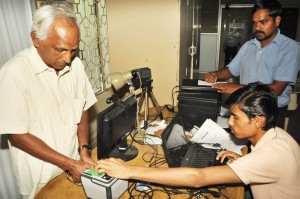 The Unique Identification Authority of India (UIDAI) will be issuing a unique identification number for all residents of the country under the brand name Aadhaar.
Enrolling for this Unique Identity Card can be done at Indian Bank, Mylapore branch.
The service is available from 10 a.m. to 5 p.m. and residents need to bring in an original document for Proof of Identity and Proof of Address.
A photocopy of the original's proof has to be submitted to the bank, says B. Parthasarathy, Assistant General Manager.
A separate counter is located inside the bank's premises for this purpose, he says.
The identification card will have a personalised 12-digit number that will act as the holder's identity.
This card helps online verification and will display full details of the holder including name, address, contact details, fingerprints and retina scan, he says.
The bank has limited only 50 applications a day to enroll for Aadhaar and they will be issued on a first come first serve basis.
Once the process is over the ID card will be sent to the residents through registered post, he says.
The bank is located at 21, North Mada Street, Mylapore.  Ph: 2464 1420 / 2464 2068.