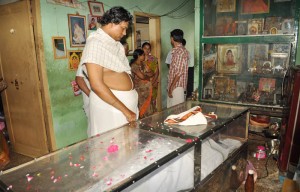 Senior Carnatic vidwan Chengleput C.  Ranganathan passed away this morning (July 12) at his residence on Nallappan Street, Mylapore, Chennai.
Ranganathan was 73 years old.
Family members said that he was ailing for some time and had complained of chest pain early on Tuesday morning. He died on the way to hospital.
Even in this age, he was a keen guru, heading classes at the school run by The Music Academy. He was known to be an expert in pallavi singing in Carnatic music. A man known to stick to tradition and a hard task master as a guru, Ranganathan was sought after by students and artistes alike.
He was often seen at the concerts of senior artistes and at lec-dems in Chennai's sabhas.
Born in June 1938, Ranganathan had his first lessons in music from his mother. Later, he became a disciple of the famed Alathoor Brothers and had his arangetram in 1955. He was a top grade artiste of All India Radio (AIR) and was its staff artiste for over 20 years.
He was decorated with the prestigious Sangeet Natak Akademi award, the nation's highest honour for great artistes and the Sangita Kala Acharya by The Music Academy.
His family resides at Kartik Flats, 27/6, 1st Floor, Nallappan St., Mylapore. Ph: 4217 5165.