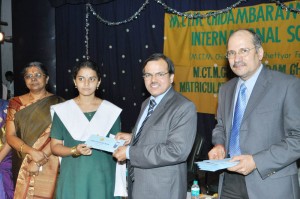 MCTM Chidambaram Chettiar Higher Secondary School, Luz had its Founders day on August 2 in the school's premises.
M. Narendra, Chairman and Managing Director of IOB was the chief guest. He presented the senior students with a debit card for their minor savings bank account.
This was done to encourage students to save money, says Vasanthi Srinivasan, Vice Principal of the school.
Sonali Divya who topped the school in the Plus Two Board exam was presented with a cup and certificate.
The Humanities faculty department was awarded a cup for their academic performance during the last academic year.
This department consists of teachers from History, Geography, Social Science and Commerce streams, says Vasanthi. "We have five such departments and every year the department with the maximum point wins the cup," she added.
Students also presented cultural programs at this event. The school can be reached at 2499 2962.