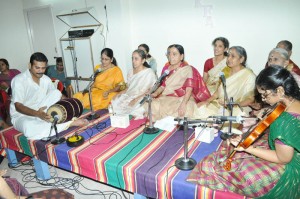 Srinivasa Ladies Club has a social history of its own. It runs through four decades.
On one hand its musically inclined members sing at religious events and social meets. On the other, the Club reaches out to less privileged people.
Recently, its members presented a Carnatic vocal performance under the auspices of Karthik Fine Art.
This concert was held in memory of the late S. Rajam, musician, scholar, artist and guru who lived on Nadu Street.
"Rajam used to teach music at  the members of our club," says Lily Ramdass, a member. Rajam had been teaching at the club for over 20 years and many members had been his students, she adds. "We also sing bhajans at temple and social events, she says.
The club has 180 members and has been functioning for over 40 years. They also provide medical and educational support for underprivileged children and women.
The Club's premises is open from Monday to Friday and is located at 7, 1st Main Road, Jeth Nagar, Mandaveli.