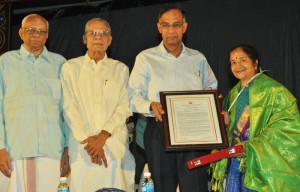 Dance guru R. Rhadha was honoured with an Endowment Award at the inauguration festival of 15th annual Bharathanatyam festival 'Bharatham Kathai Kathaiyaam'.
R. Seshasayee, executive Vice Chairman, Ashok Leyland Ltd. was the chief guest.
This was organised by the dance wing of Narada Gana Sabha Trust, Natyarangam.
The festival is being held at Narada Gana Sabha till August 17 at 6.15 p.m.
Seen in the photo (left to right) R. Krishnaswamy, secretary of the sabha, R. Krishnamoorthy, President of the sabha, R. Seshasayee and dance guru R. Rhadha.