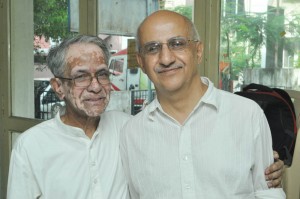 P. Ramalingam, retired Exec. Director of MP Electricity Board has released a documentary 'The Message in the Air' on the MGNREGS scheme and on community radio service.
The release function was held on August 27 at Gokhale Shastri Institute.
Harsh Mander, member of National Advisory Council and eminent social worker released the documentary.
The documentary is to be dubbed in Tamil and Hindi and focuses on eliminating corruption at grass root level.
Ramalingam is a resident of C. P. Ramaswamy Road, Abhiramapuram.
He had previously released a book titled 'Incredible Indian's Silent Tree', a journal of his life last year.
He had also started Kamala community radio station in memory of his wife. This has been recently cleared by I&B Ministry and will go on air at Oddanchatram in Tamil Nadu soon.
Seen in the photo are Ramalingam ( left) and Harsh Mander.