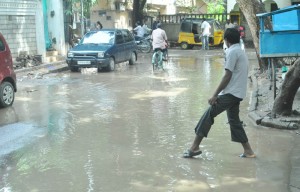 The recent showers in the neighbourhood flooded some of the streets and roads in Mylapore.
At C. P. Raman Street the streets were filled with water and pedestrian had to negotiate their way in and out of the road (photo on left).
A similar sight was seen in Abhiramapuram 1th Street. Apart from water stagnation the streets were filled with potholes that worsen the conditions of the road here (photo below left).
Unfinished drains in Abhiramapuram 4th Street have become mini dams for stagnant water (photo below right).
IS YOUR AREA READY FOR THE MONSOON?
Mylapore Times invites you to report on large scale flooding, badly maintained drains, damaged main roads, etc that need the Corporation's attention. Photos can also be mailed.
These will help document the state of this neighbourhood on the eve of monsoon. Mail – mytimesedit@gmail.com