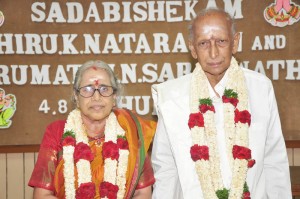 The sathabishekam of K. Natarajan was celebrated along with his wife N. Saraswathy on August 4. K. Natarajan, son of Kailasam of Thirukadaiyur, was born on 1931.
He graduated from Madras Law College in 1955. He worked in the chambers of late Justice C. A. Vadyalingam, former Supreme Court Judge, late T. Venkatadri, former High Court Judge and P. R. Gokula Krishnan, former Chief Justice.
Natarajan retired as Senior District Judge, Chennai in 1989. He married Saraswathy in 1958 and the couple have three sons. He has been a resident of Mandavelipakkam for the last 58 years.
The couple resides at Second Trust Cross Street, Mandavelipakkam. Ph: 2464 0965.