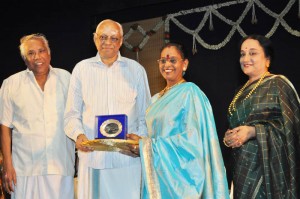 Dance guru Krishnakumari, a senior nattuvanar based in Mylapore was much like a thrilled young woman on Wednesday evening at the Narada Gana Sabha auditorium.
She, along with another dancer and guru, Lakshmi Vishwanathan were honoured by the local chapter of International Dance Alliance at the 26th edition of its dance festival.
And the honour for Krishnakumari came in the month when she will turn 60. For over four decades she has trained countless dance students and attempted to use multimedia in her own productions. And, she carries her love for the Thamizh language to her work and on stage.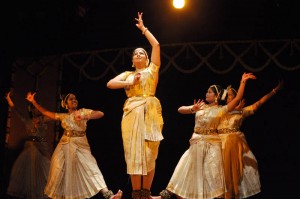 The first evening of the festival presented a medley of dance items including one by three young artistes, daughters of senior dancers who performed to recorded fusion music which featured the work of mridangam guru Karaikkudi Mani. A medley titled 'Mihira', was composed and choreographed by Swarnamalaya.
IDA's local chairperson Leela Sekar who has done an admirable job in setting a standard for this fest chose to take the back seat in the front row and let Radhika Shurajit and Revathi Ramachandran handle the onstage and backroom run-arounds.
A second set of productions were showcased on Friday evening.
<< Want to share your comment on the IDA Fest? Post them at www.mylaporetimes.com or email to – mylaporetimes@gmail.com >>