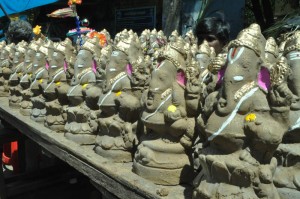 The inner streets of Mylapore and the mada veedhis around Sri Kapali Temple came alive as Thursday dawned.
It was the day for the celebration of Vinayaka Chathurthi.
Families flocked to the street corners in Raja Annamalaipuram and Mandaveli or to the mada veedhis around the Kapali temple tank.
It seemed as if there were a larger number of the simple, clay images of the Lord who removes obstacles than the garishly painted ones.
Malini from R. A. Puram chose the clay model for her family; tagging along was her son (photo on left, below).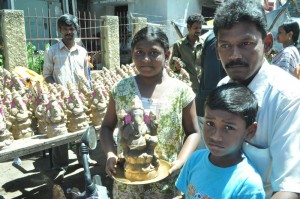 In many places, children seemed to enjoy the fun of the shopping, the displays and the colours around them.
While the clay images sold at Rs.60 plus, the colour painted ones started at Rs.600.
Those looking for the creatively made Ganeshas would have spotted, on the mada veedhis one of Him enjoying curd – priced at Rs.80. The colourful umbrellas had grown bigger this year – some priced at Rs.200.
At the Sri Vinayaka Temple on Trust Main Road in Mandaveli people brought home-cooked 'sundal' and distributed it to devotees here.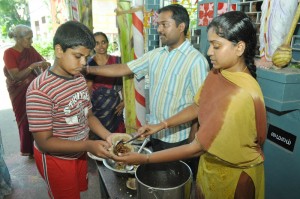 On Warren Road, behind the small shrine kutcheris have been scheduled for the evenings. Sudha Ragunathan was to sing on Thursday evening.
Hawkers on the mada veedhis sold flowers and fruits that go with this celebration. 'Erugum-poo' was in demand.
Outside the Sri Athirshta Vinayaka Koil on Mandaveli Street, Senthil Kumar showed us his fabulous flower and leaves decoration for the Lord (photo below).
As the day wore on, the prices of the images began to drop and shoppers were still thronging Mylapore's streets.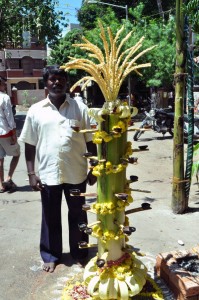 – Photos and reportage by R. Saravanan.