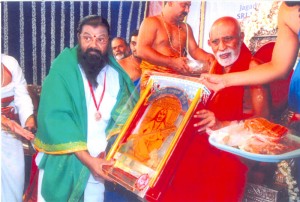 Mridangam maestro Karaikudi Mani was recently honoured with the title 'Asthana Vidwan' by the Jagadguru Srimanmadhwacharya Moola Maha Samsthanam Sri Raghavendra Swamy Matha – Mantralayam at the 340th aradhane of Sri Raghavendra Teertharu.
This title was given by His holiness 108 Sri Suyateendra Teertha Sripadangalavaru (peethadhipathi of Sri Raghavendra Swamy Mutt, Mantralayam). Karaikudi Mani donated this amount to the Veda Padasala of the Sri Raghavendra Mutt- Mantralayam.
Karaikudi Mani is a long term resident of Mylapore. He resides at 6, Jeth Nagar, 1st Main Road, R. A. Puram. Ph: 2461 0142.