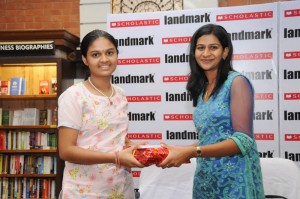 Mahitha Suresh, a resident of Mylapore has won a literary prize at a national level event. She was the runner-up at the All India Scholastic short story writing competition.
She was awarded a prize that consists of books worth Rs.1500.
Children's author, Anita Bennet, gave the prize away.
The event was held at Landmark, Citi Centre, R. K. Salai on September 2.
Mahitha is a tenth standard student of P. S. Senior Secondary School.