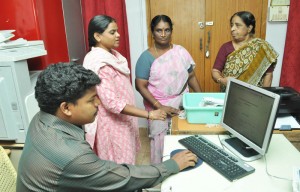 People can also access other state and public services, records.
India Post has launched a few services, which should benefit people who cannot use computers, and online services to access them.
This facility has been opened in Mylapore Post Office on Kutchery Road as well.
One service allows for people who need a passport to come to this Post Office to fill up the application online and submit it. They will be provided with a confirmation slip with the date telling them to appear in person at the passport office with the relevant proofs. For passport application processing, the office will charge Rs.100
There are many other similar services available here. These allow customers to access public services online.
This includes applying for birth and death certificate, employment exchange registrations, online application for learner's license, online applications for schools and colleges and any government application forms, says the R. Bhanumathi, Post Master at Mylapore.
The customer care wing of the India Post will handle these services, which will be done over the counter, she adds.
For such services, the charge is Rs.50. They also provide print out of forms / applications from various websites and from CD or pen drive presented by the customers. For this service they charge Rs.1 per page.
The post office can be reached at 2464 2805.
SOME OTHER KEY SERVICES HERE
COUNTER FOR SENIORS
This post office has a special counter for senior citizens. The staff here provides postal and other services exclusively for seniors.
PARCEL POST
Take your bottles of pickles, packs of appalams and the boxes of podis and leave them at this desk at the PO. The staff will specially pack them (charged) and help to book them to be sent abroad by post. Open from 10 am to 5 pm, open Mon to Sat.
ADDRESS PROOF CARD
Staff say the Card is much in demand. You buy an application for Rs.20 and furnish details and photos as required and pay a fee of Rs.250. Verification, transit and printing takes about a month for the card to reach you. Counter open from 10 am to 3 pm.
SALE OF GOLD COINS
You can trust these coins, say staff but you cannot trade them here. Coins – 0.5 gms onwards – are sold at this counter based on the price of gold at time of purchase. Many people prefer this as an investment. Counter open from 10 am to 5 pm.