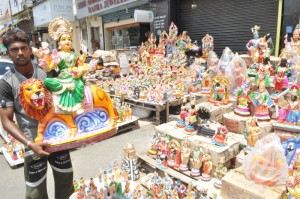 The Navaratri season is back on the mada veedhis.
Hawkers from different parts of the city and outside have set up their wares for display mostly on North Mada Street, off Sri Kapali Temple.
From the traditional to the kitsch, from cute, small ones to grand images, you can shop for the dolls of your liking.
Mylapore Times' Mariayn Jennifer walked down the veedhi on Monday evening as the rain clouds were gathering above to take a look.
Here is what caught her eyes.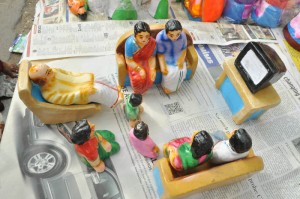 Suresh is a fruit seller by profession but at this time of the year he also sells dolls. His stall is near the Indian Bank corner.
The prominent exhibit is a set of a traditional family relaxing in front of the television.
This set consists of 13 pieces. It is made from mud/clay.
This set is priced at Rs.900 and is sourced from Kanchipuram. He can be reached at 91505 12977.
On the opposite side of this street is Loganathan. He is a auto driver but like Suresh doubles up as a hawker at festival time.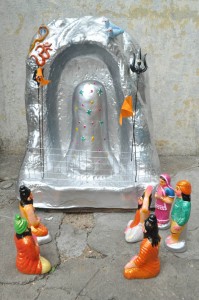 Here, the 'pani lingam' set consists of a silver-painted lingam with rishis and devotees around it.
It is priced at Rs.3500. He can be reached at 99413 06055.
Guhan Odam (means Guhan's boat) caught our eye at the stall of Veeramani, who is 27 years old. He sits near the Corporation Bank.
Guhan Odam depicts a story from the 'Ramayanam'. The scene features Rama, Sita and Lakshmana taking a ride in Guhan's boat in order to cross the river as they go into exile.
These images are half a foot tall and made of papier mache and clay. Price – Rs.1750. Veeramani can be reached at 98412 59928.
At Geetha's space alongside the NAC jewellery showroom, we locate an image of Pandurangan and his consort Rakhumai.
The set is made from papier mache and needs to be handled and preserved carefully.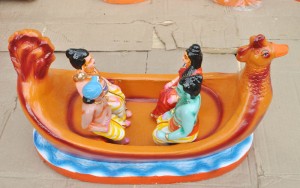 These dolls are made in Kanchipuram and Chengalpet and are one foot tall. Price – Rs.1200. Geetha can be reached at 90427 63832.
At Velu Lakshmi Ammal Kalyana Hall, a series of wooden dolls and kolu sets are truly eye-catchers and good buys. Srinivasan is our guide here.
The Lord Krishna and the gopikas set (wood) is priced at Rs.700, a traditional Tamil wedding party set (wood) sells at Rs.1500. They are sourced from Kolkata, Andhra Pradesh and Karnataka.
The papier mache items are sourced from Kanchipuram and Panruti. Prices start at Rs.900. Srinivasan can be reached at 99402 81790.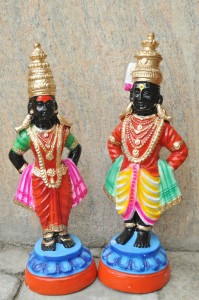 Want to purchase a kolu stand and dolls on it? Turn to Elumalai, a lock repairer from Tambaram who is located in front of the Aavin shop.
The preset kolu stand has five steps and different types of dolls on each step. The whole set is priced at Rs.1500. His number – 98405 37360.
<< Did you locate some great doll sets on the mada veedhi? Share the info with our readers – mail to – mytimesedit@gmail.com. Or call 2466 0269 now! Photos of sidelights on the streets are also welcome>>