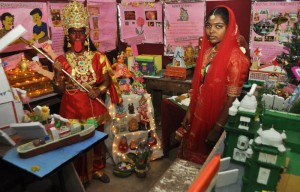 The post graduate research department of Geography, Queen Mary's College had organised an exhibition titled 'Tourex 2011, Linking Culturals'.
This was held inside the Golden Jubilee Hall in the college premises.
This is a two day event and is on till Sept.28 till 1.30 p.m.
Students presented various cultural themes through models, food and costumes.
They dressed up in traditional costumes and presented different types of cuisines from various parts of India.
The inauguration was done by S. P. Jaguvar Thangam, Stunt Director, Film Producer and Director, South Indian Film Industry.