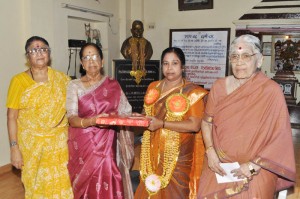 Special events were organised on local campuses on the occasion of Teachers Day, September 5.
Srinivasa Gandhi Nilayam at Alwarpet honoured Getsi Arul Vasanthi, Head Mistress of Dr. Sarojini Varadappan Higher Secondary School, Poonamallee (photo on left).
Present on the occasion was Sarojini Varadappan, Susheela Padmanabhan and Lalitha Ramanujam, Hon. Secretaries.
Thejomaya organised an art-creative writing competition for students.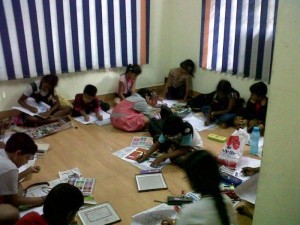 The winners were awarded cash prizes and certificates by Sunitha Daisun, Tamilnadu Head, Global Art (photo on left).
Info Network Management Company Pvt. Ltd organised an awards function themed "Gurusamarpanam". Prof. Prema Pandurang was the chief guest and the guest of honour was Bala V. Balachandran.
The Paramacharyas award was given to Dr C. V. Krishnaswami – medicine, TKV. Desikachar – yoga, M. V. Narasimhachari – dance, M. Vasanthalakshmi – dance, R. Krishnaswami – legal service, Delhi Ganesh – cinema, C. R. Vaitheeswaran – education, Maniam Selven – art (photo below).
At Rani Meyyammai Girls' H. S. School, R. A. Puram eight teachers were honoured for having completed 25 years of service at this school. The Lioness Club of Nandambakkam honoured them.
The teacher's who were felicitated were K. Mangaiyarkarasi (Head Mistress), C. Subadra, R. Suganthi, K. Vijaya, R. Vasanthi, K. Mahalakshmi (PG Assistant), Lalitha (Vocation studies teacher) and K. Vedavalli (Asst. HM).
Also present on the occasion was K. Alamelu, a retired teacher of this school.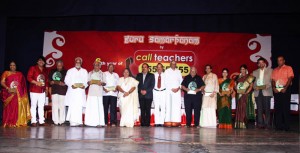 << DID YOU HAVE AN EVENT FOR TEACHERS AT YOUR MYLAPORE SCHOOL? Rush a photo with a caption now and we can post it online at the Mylapore Times web site >>