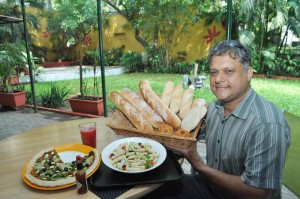 Foodie and restauranteur Joe Lobo who launched Crust in a nook of a boutique on Bheemana Garden Road in Abhiramapuram has now expanded his eatery.
Crust Delicatessen (located in the Asharaa store campus) has opened a grill and salad bar.  Garden Cafe Crust is set in the open space that is located behind Joe's bakery.
This green place can accommodate 40 people.  "We serve meat and seafood cooked on the grill," Joe Lobo.
This cafe serves Italian, Mediterranean, Chinese and Thai food now.  One can also host parities at this place, says Joe.
It is open from 12 noon to 10.30 p.m. from Monday to Saturday. It is located at 18, Bheemanna Garden Road, Abhiramapuram. Ph: 2467 0298.