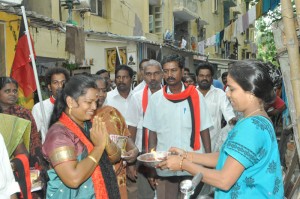 Campaigning for elections to the Corporation Council due on October 17 in the city is slowly gaining momentum.
This past week, candidates of political parties and independents who have chosen to throw their hat in the ring have started door-to-door campaigns.
The DMK's Velvizhi was seen going around a Mandaveli colony called Vaniyambathi one evening, targeting the slum tenements here. She is a candidate in Ward 126 (photo on left).
Veteran campaigner and former councillor Lakshmi Suresh of the BJP is contesting from Ward 124.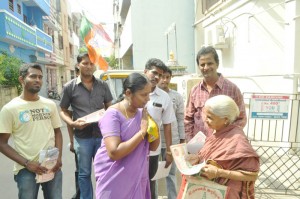 An old hand at this game, she was quick off the mark and went door to door in New Street one evening (photo on left).
Since the limits of the Wards have been redesigned people like Lakshmi who have been seasoned politicians at the grassroot level have to rethink their plans as they target new faces in the community.
In Ward 123, we saw K. Latha of the DMDK party going around Visalakshi Thotam, a key colony for politicians who target local voters. Her husband Kumar was at hand and led the party men as they did the rounds on evening. Small colour posters have appeared in colonies, pasted on EB boxes, walls and shops (photo below).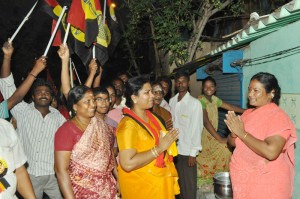 Two women have been up by the Makkal Sakthi party in this area. S. Vani ,  47 is contesting from Ward 173. She says she is a member of Mallikai Womens Self Help Group and head of Kadam Association and part of the team of Adyar Poonga Friends and has taken part in protests on local and common issues.
Similarly, K. Suseela Devi is aged 65 and is contesting from Ward 124 in Mylapore. She says she has led protests for closing of a local TASMAC shop and been involved in church-related associations and helped police in security check drives.
Chennai Corporation has set up helplines for people who are not sure of their Ward limits to get information. The web site – www.chennaicorporation.gov.in also provides information.