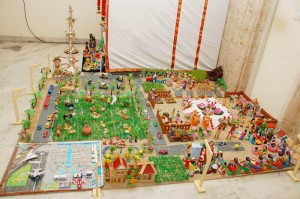 During this Navaratri season many Mylaporeans have set up thematic kolu at there residence. At some places the residence have go together to set up a common kolu in their apartment.  Here are some of the pictures that we received.
<< MYLAPORE TIMES is posting photos of kolus mailed by readers on its web site – www.mylaporetimes.com. Feel free to email at – mytimesedit@gmail.com. >>
Kolu display at the residence of Srividyah Arun, Karpagam Avenue, R. A. Puram.
Kolu display of Chandra Swaminathan with two amman images with sari and jewellery. She is a resident of H. D. Raja Street, Teynampet.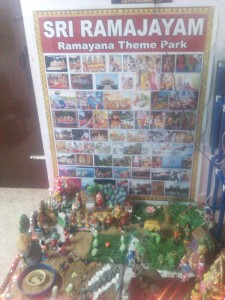 Kolu of Srinivasan, C.P. Ramaswamy Lane, Abhiramapuram.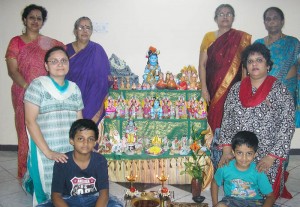 Kolu done by the residents of Jains Dhejasvir apartment complex on the theme Community Living United!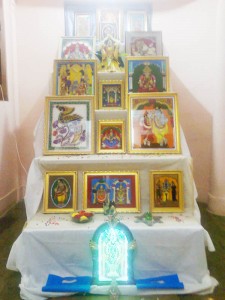 Kolu of Aanandhi Prabhu with glass paintings on the theme 'Glass Golu, Trash Plastic" done by her. She is a resident of  painted by me. Loganathan Colony, Mylapore.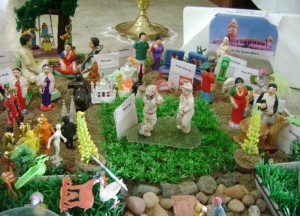 The theme for this kolu is "Chennai  The Super Metro". Chennai is in top position in maintaining Heritage, Culture, Tradition, Fine Art, Secularism, Sports and Creativity.  Kolu by Vasantha, Alwarpet.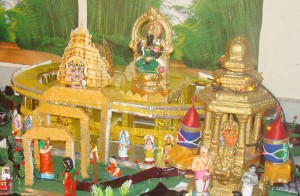 Kolu by Swapna Sundararaghavan of Abhiramapuram 3rd Street.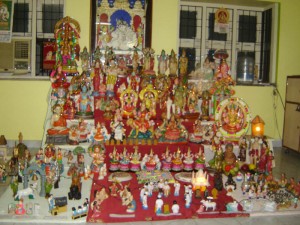 Kolu by Sheela, Bawa St. Alwarpet.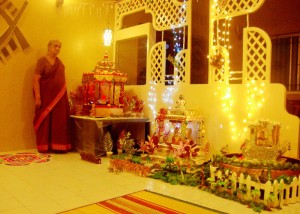 Creative kolu  done by 76 years old lady of C P Ramaswamy Road, right opposite Kaliappa Hospital, above HDFC bank.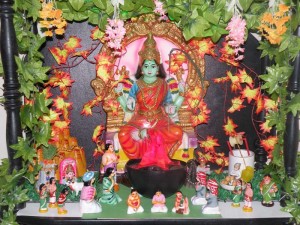 Kolu by Usha Shankaranarayanan, Solaiappa street, Mylapore.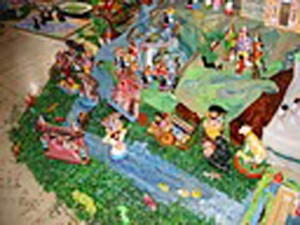 Kolu of V.Bhuvaneswari on the theme Krishna Leela in Yamuna river be. She is a resident of Alamelumangapuram, Mylapore.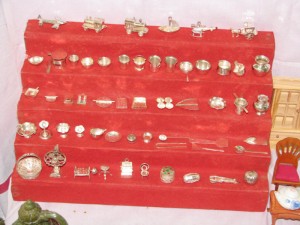 Display of miniature silver toys, containing kitchen set made of silver containing olden days utensils and kitchen aids like Andaa, Gangalam, Ural, Ammi, Kinaru (well), Arivaal manai, aduppu, Oodhu kuzhal, Eeya chombu, Kooja with a small tumbler inside, murukku kuzhal, kudam, manai, bucket, kothu kinnam, etc again collected over 20 years. Kolu by Usha Jayakumar, Alwarpet.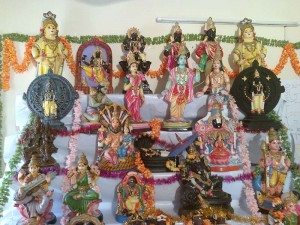 Kolu at the residence of Lakshmi Narasimhan at Solaippan Street. The caption for the kolu is "Grow and glow green".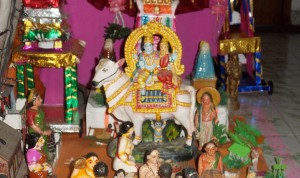 The kolu in the residence of  Jayanthi. She has displayed dolls that are as old as 100 yrs.  She is a resident of V K Iyer Road, Mandavelli.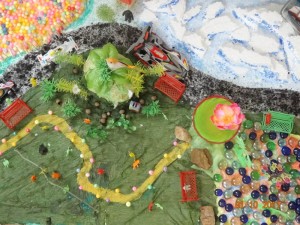 Kolu of Dhanalskhmi Sadasivan, Chitrakulam North Street, Mylapore.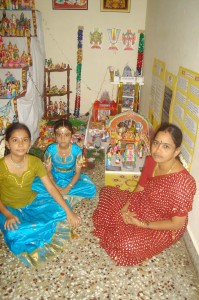 The model of Thirukoshtiyur temple at the residence of Rama Sathiyamurthy, Norton Road, Mandaveli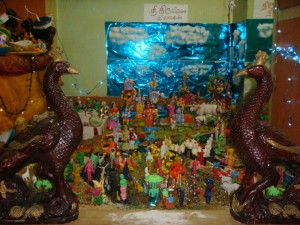 Kolu of Suman, Mylapore.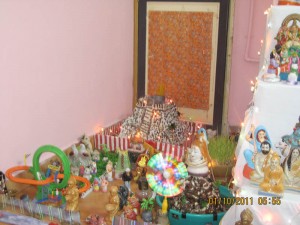 Kolu of Vananja Subramanian, Mylapore.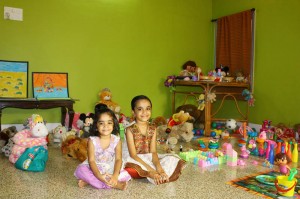 A Barbie house, toys library, teddy terrain, a musical ride, an adventure zone, Dora at the beach, health care unit and art gallery set as part of the kolu at the residence of Bharath Cola, Srinivasa Avenue Road, R. A. Puram.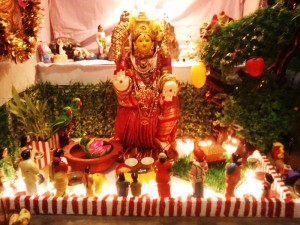 Kolu of R.Annamalai a resident of Adam Street, Mylapore.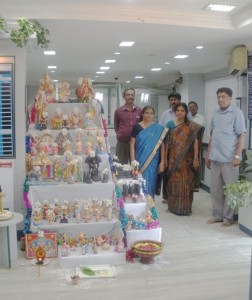 Kolu at the State Bank of Travancore, R. A. Puram branch.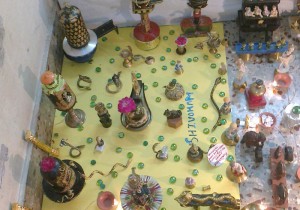 Kolu of Geethasrinivaan of  Kalvivaru Street, Luz. She has done hand made lingams and nagar that were made from household articles.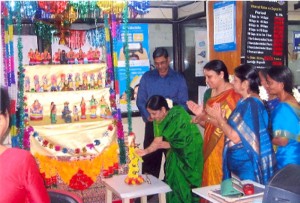 Kolu at Canara Bank, Abhiramapuram.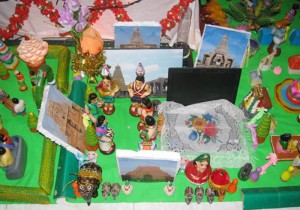 Kolu of N. R. Neeraj Kumar. The theme of the kolu was about the 1000 year celebration of the tanjore temple held last year.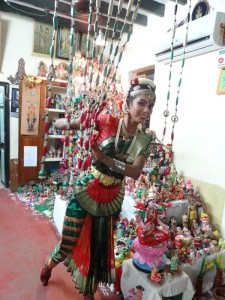 3 Dimension kolu of AnanthaSri Sailapathi, Mandaiveli. You can view the other photos at https://picasaweb.google.com/112434534175438264359/Dussera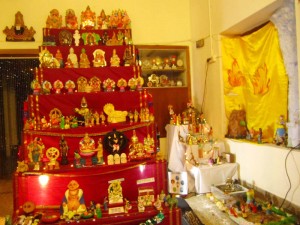 Kolu by Sudha ,Narayanan, Abinaya and Akshaya residents of R. A.Puram.