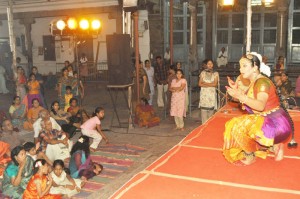 At Navaratri time, Mylapore soaks in music and dance, in creative displays and in sharing.
At Sri Kapali Temple, a dance festival is on at north eastern corner of the campus. On Wednesday last, actor-dancer Swarnamalaya performed on the open-air make shift stage.
Elsewhere on this campus, Srikant who manages a nandavanam on the western end of the temple tank and picks ad offers the flowers that bloom here to the temple has designed a floral display, a fine art indeed that catches the eye of all devotees.
Nearby, is another creative art contributed by members of the Thirumylai Sripadam group which is made up of volunteers who take out the gods and goddesses in a procession throughout the year.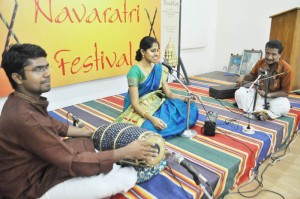 They use a variety of grains to create images of Lord Shiva. A new image is designed every day. The lit-up display is also a big attraction.
The temple managers have erected two kolus in two different places.
Revathi Ramachandran and her daughter Manasvini performed on the opening evening of an arts festival presented by Kartik Fine Arts at Bharatiya Vidya Bhavan hall. Concerts here will run through the season.
At the mini hall on the BVB campus, M. S. Vilasini performed a vocal concert on Wednesday evening.
This series will also run through Navaratri.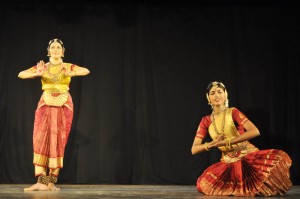 Concerts are also being held at the C. P. Ramaswamy Foundation in Alwarpet. On the opening evening, violin maestro M. Chandrasekaran was honoured with a title.
Music is in the air in many houses too. It is common to have informal concerts before the kolu.