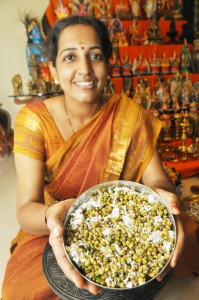 Mylapore's homes come alive at Navaratri time. And the real spirit of this festival is best celebrated and experienced in places where families go by tradition and follow age-old practices.
We dropped into the houses of four Mylaporean families to get a feel of the traditions they follow for Navaratri.
Suchitra Ravichandran lives at the Alamelumangapuram colony located behind the famed Sai Baba Temple. She follows the kolu tradition that her mother-in-law used to for over 50 years. In fact, the image of Krishna, the Dasavataram set and the prosperous-looking Chettiar are antique, bought in the 50s.
The bungalow's drawing room allows the family to lay out the kolu as per tradition.
Suchitra says she cooks a different variety of sundal or snack on each of the nine days. On Wednesday, she cooked green gram and on Friday she planned 'pittu' while on Saturday she will make 'yel urundai'.
Suchitra plays small roles in plays but has taken a break for Navaratri to be at home, conduct rituals and greet visitors.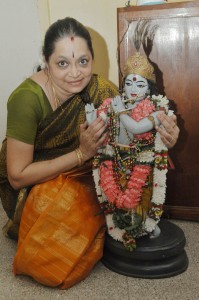 In Jeth Nagar's First Main Road in R. A. Puram, the Deivasigamanis enjoy keeping a tradition. Geetha runs a marriage match making facility and also writes novels and short stories.
Though they live in an apartment, Geetha lovingly stores all the old dolls she has collected over years and takes them out for her kolu. Geetha says she buys a few dolls every year.
This time, she designed a Kuberan-themed display and a kutcheri scene with images of the Carnatic music Trinity of composers as the backdrop, beside the main kolu.
Geetha presents women guests with a tray laden with stuff like betel leaves, banana, kungumam, manjal, manjal thread and a blouse piece.
Lalitha Shankar of V. S. V. Koil Street who works at a bank in Mylapore has to make time to be at home on all evenings. She is fond of a special image that she possesses. It is of Lord Krishna that is three feet tall.
It was gifted to her by her 'samandhi', K. L. Nagarajan who was Principal of D. G. Vaishnav College. " This doll was in the possession of their family for ages and now I take care of it," says Lalitha. She has set it inside a glass case and it now stands close to her five-step kolu.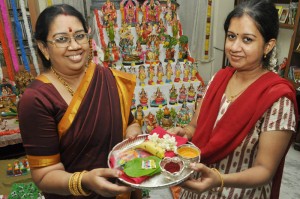 Prema Krishnamurthy and her husband, a Sanskrit teacher who live in the Sanskrit College Street that runs alongside the famed college off Royapettah High Road gathers all her antique stuff like brass vessels and kutuvillakkus to display them around the main kolu.
The kolu is of 15 steps and the stand almost touches the roof. "I must buy a doll wherever I go on a tour," says Prema. Her latest was bought in Manipur.
For guests who drop in at noon Prema, who wears the madisar presents medhu vadai and payasam. Prema uses a panchaloka metal vessel to preserve the payasam. "The taste remains good even in this stuffy climate," she says.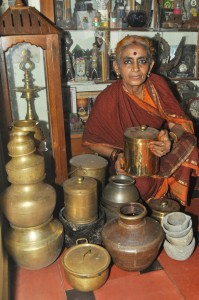 For late evening visitors, Prema offers sundal.
– Reported by R. Saravanan
<< MYLAPORE TIMES is posting photos of kolus mailed by readers on its web site – www.mylaporetimes.oom. Feel free to email at – mytimesedit@gmail.com. Caption your photos please >>