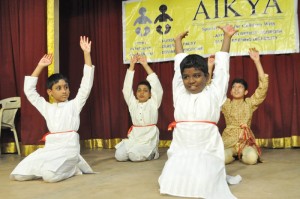 Aikya, Centre to integrate the different located at Luz has its annual day at Raga Sudha Hall on Nov.11. Sudha Raghunathan, singer and M. Nandagopal, District Governor, Lions Club were the chief guests.
Children of the centre presented various cultural events on general knowledge and culture.
The school was started in 1989 and aims to integrate special children with other children. They also conduct regular seminars, workshops and awareness programs for workers and parents to effectively handle special children.
Aikya is located at 2/9, Karpagambal Nagar Main Road, Luz, Mylapore. Ph: 2493 8443, 2461 2668.