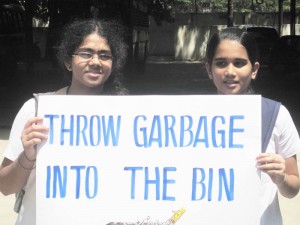 You may call them The Green Trio. Vaishali Jayaraman of class nine and Sharan and Mohan. R of class eleven of P. S. Senior Secondary School, Mylapore are doing their bit for the environment.
They make paper bags and distribute them to neighbours and friends to help reduce the use of plastic.
They also perform little street plays to spread awareness on environmental issues.
Sharan says, "Arun Krishnamurthy from a body called 'Roots and Shoots' came to our school and did an orientation programme and since I was keen on such issues I got actively involved".
The trio are also very active volunteers at the Vandalur zoo and are involved in the Animal Rescue programme and Save Turtles programme  in this city.
Vaishali makes wallets from cereal boxes and bean bags from rugs and clothes. She too was inspired by Arun's programme at the school.
The trio have received the Fearless Green Award and the Young Environmentalist Impact award.
All those who want to join Arun's 'Roots and Shoots' projects can contact him at 9940203871
Those who want to buy Vaishali's recycled products can contact her at 24985152.
– Reported by Anagha Natraj