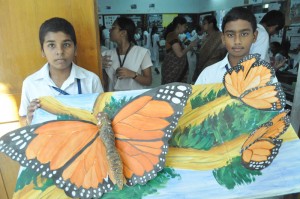 Many schools in the neighbourhood had special programes for Children's Day celebrated on Nov.14.
At P. S. Senior School a special week long program has been organised. An exhibition has been arranged for this purpose. Students presented projects on the theme all about France, endemic and migratory birds of the world and wonders of the world.
Benoit Gontheir, head of a French based firm and Arun Krishnamurthy, environmentalist and wildlife photographer inaugurated the exhibition.
A Math week is also held here. Several contest like puzzles, crosswords, model making are held for the students.
At Rosary Matric. School, San Thome the teachers presented cultural programs for the students. A fancy fete was held here on Saturday in view of Children's Day.
At St. Bede's Anglo I. Hr. Sec. School several contest were organised for the boys in fancy dress, elocution, singing, dancing, miming.
The annual year book – Jnanamanjari was released at Sir Sivaswami Kalalaya Senior Sec. School today. Tahsin Chacko, Regional Manager, Scholastic India was the special guest. The year book consists of poems, articles written by the students, says R. Arun, Principal of the school.
The children at Mahima Cultural Center, playschool and preschool celebrated children's day by prepared charts on the various fruits, vegetables, colour, alphabet and shapes. These will be displayed at the center's website www.mahimasculturalcentre.com. The children also sang songs, and practised making flower through origami. The school is located at 64/1, Nattu Subaraya Mudali Street, Mylapore. Ph: 2467 2155 / 984038 8066.
Probus Club of Chennai, a  senior Citizen's Assn with 350 members in association with Russian Centre of Science and Culture (RCSC) celebrated Children's  Day at Russian Centre of Science and Culture. Apart from the various cultural activities a fancy dress competition was held. Prof. V. V. Subramanian, former Principal of Vivekananda College was the chief guest. Nikolay A. Listopadov, the Consul General Of Russian Federation in Southern India and Vladimir Mariy, Director of RCSC were also present on the occasion. In the picture:Awardee Shilpa, her parents, Consul General,  Director,  Chief Guest Prof VVS, Past President Dr.V.Balambal. President Audimoolam, Secretary, EC member are in the picture.
IDBI Federal Bank, Royapettah branch conducted a drawing competition on Children's Day at Kreative Explorerz. The winners were awarded prizes by Balachander, Director of Xturion, Ashok Nagar. All the participants were awarded with certificate of participation. Kreative Explorerz a play school based in Mandaveli can be reached at 4204 9555 / 93826 62011.