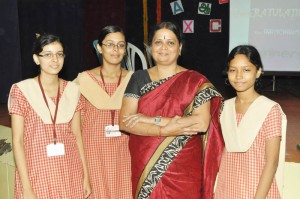 Sir Sivaswami Kalalaya Senior Sec. School had organised a 'book week celebration' in their school from Oct. 31 to Nov. 4.
Several contest like book cover designing, treasure hunt, science model presentations were held for the students.
All these contests are based on the reading of book, says R. Aruna, Principal of this school. This is to encourage students to read more books, she added.
The event was inaugurated by Dr. Prema Kasturi, Retd. Professor, WCC, Chennai.
On Nov.3 an interschool contest was held in view of the International Year of Chemistry.
Senior Sec. School students from 7 city schools participated in the contest.
Photo featured here are the winners of the debate and power point presentation along with the judge Banumathy Ramesh, HOD Economics, Chettinad Vidyashram.