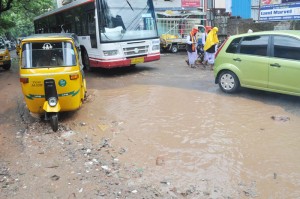 Heavy rains during the last few days have flooded most of the low lying areas of Mylapore.
There has been rainfall through the night and day and many roads such as the St. Mary's Road have developed potholes that are very large (photo on left).
Vehicles had to slow down and negotiate their way in these places.
For some the heavy rains have not disturbed their daily route such as this boy in R. K. Mutt Road who is on his way to fix some posters.
Many were seen continuing their days work inspite of the showers continuing through the day.