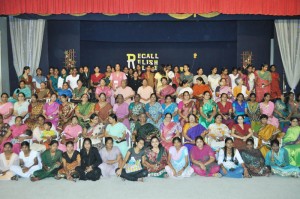 Why did girls at a Thamizh medium school in San Thome have to speak in English on campus?
One of the curiosity questions that popped up at the annual alumni Reunion at St. Raphael's Girls Higher Secondary School on November 12.
The girls of the 60s batch would have known why.
The nuns who managed the school then were mostly Europeans and were yet to understand Thamizh well.
Last weekend, it was fun and rewind time for young and middle-aged women who are alumni of this campus managed by the nuns of the FMM congregation.
The school is celebrating its centenary celebration next year and is keen to gather all the alumni under one banner.
Present at this event was A. Mary Baptista, a resident of R. A. Puram. She passed out in 1960. Those were times when Classes were called Forms. "We used to have batches only till the Fifth Form, which is equivalent to Std.10 today, " says Baptista. " Since the nuns at our school were from Europe and didn't understand the native language they asked us to always speak in English!".
Europeans remained on this campus till 1971. Sister Bennet was the last European nun to be the principal of the school.
Raphaels also had a teachers' training school in the same compound ( on Kutchery Road) and many girls went on to join it to get skilled, ( The teachers' training unit was closed down later)
Says Baptista, " The whole campus was called St. Thomas Convent and we had the biggest compound in this area so there was lots of space to play."
And when the girls had to write the Board exams they were taken by the nuns to the nearest centre – Lady Willington School in Ice House area.
St. Raphael's started the English medium section in 1962 – 63. That medium continues to this day.
Says S. Latha who passed out in 1962 recalls that the Mother Superior, Sister Giles was a pleasant lady who like to interact with the students. "I studied in the English medium. Music was part of our school life. Each day we used to sing a different song for the morning Assembly and at Christmas, all the students got together to put up plays and sing carols."
The plays were performed in an open air stage.
Alumni Mithra Raghavan came all the way from California (USA) to attend this reunion. She passed out in 1977.
"Our school was a very popular one in the neighbourhood and we had students from Malaysia and Singapore who studied here," she says. "We also had many blind students. We used to help them with their studies."
N. R. Auxilia, an alumni of 1973 batch and now a teacher at this school says that the school had Hindi and Telugu medium sections (these sections were abolished sometime ago). "Special teachers were appointed for these sections," she said.
Students enjoyed the campus because of it was quiet and there were no distractions, said some alumni at the recent meet. And on-campus and extra-curricular activities were aplenty.
The senior students had to wear the half sari and the juniors skirts and tops in the school's pink and white colour combination. Today, most girls were salwar kameez.
If you wish to be part of the alumni association contact the school's office. Phone: 2498 5970.