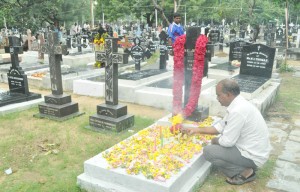 November 2 is observed as All Souls Day by Catholics as a day when they remember the dead and pray for them.
People were seen visiting the graves early in the morning, they laid flowers and lighted lamps and candles at the graves of their dear ones.
At Our Lady of Guidance Church, R. A. Puram the parish priest blessed the temporary wooden gravestone. Many were present to pay homage to their departed ones (photo below).
A special Holy Mass will be said at 4 p.m. at Quibble Island Cemetery, MRC Nagar and all the graves will be blessed after the service.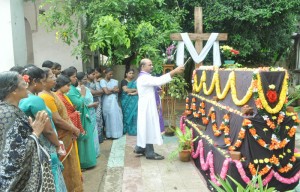 A Holy Mass and blessing of the graves will be also be held at 4.30 p.m. at St. Mary's Burial Ground in St. Mary's Road.
Both cemeteries will be open through the day.