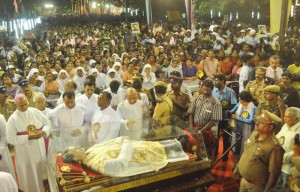 The relic of Saint John Bosco, that consists of the right hand of the saint was brought to and displayed at St. Bede's Anglo Indian H. S. School, San Thome from Oct 31 at 7.30 p.m. to November 1, 10.30 a.m.
The relic was brought to this campus from Egmore in a specially made trolley with the school band leading the procession. It was placed at the basket – ball ground in front of the stage for public veneration.
The relic is placed inside a wax statue of the saint and has been taken around the world. People started queuing up here since Monday evening. A all-night prayer vigil by various church groups was held.
Rev. Lawrence Pius, Auxiliary Bishop of Madras – Mylapore, celebrated a special Holy Mass at the campus.
The students of St. Bede's School performed special cultural events like plays, songs on the saint and his life.
Though the skies darkened and rain was predicted on Tuesday morning, many people from the area and from south Chennai came to pay their respect to the saint and get a glimpse of the relic.
The relic of Saint John Bosco is being taken around the world in view of his bi-centenary celebration in 2015.