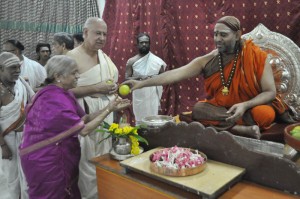 Shrikshetra Shakatapuram Vidyapeetadheeshwara, Jagadguru Badari Shankaracharya Vidyabhinava Krishnananda Teertha Mahaswamigal will camp at Narayani Ammal Kalyana Mantapam, 1st Cross Street, Jeth Nagar till November 24.
The Shankaracharya arrived here on Thursday evening and was accorded a warm welcome.
There will be chandramouliswara poojas held daily in the morning and evening. Prasadam will be distributed to all.
Devotees can meet the Jeer from 10 to 11 a.m. and 7 to 8 p.m.
The Jeer has finished his Saradambam yatra and has come to Chennai to celebrate his Jayanthi Mahotsavam. It will be held in Thiruvanmiyur, says Chandramouli, administrator of Shrikshetra.