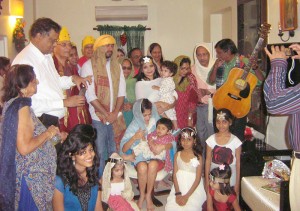 Family get together at Christmastime -this is an old convention.
And it came alive this past week in many places the San Thome neighbourhood.
People from Arakkonam and Tiruchi, from Australia and Singapore came down to be with relatives and friends who have been a part of their lives.
It was an occasion to serve home-made wine and plum cakes or sit down for a long turkey briyani dinner.
Cedric Biggs had come down from London to spend time with his parents during Christmas. He is a resident of Rosary Church Road, San Thome.
"I am coming here after 5 years and I made it a point to come during this season, as it is the best time of the year," says Cedric.
"We had many family get togethers during my stay here," he added.
Cedric came down with his wife.
At the residence of Dr. Barry's in Leith Castle Road four generation of cousins, namely the Rozarios, Lazarus and Vijayarangams got together.
About 30 family members were present at the warm parties.
Most of them were from Australia, Indonesia and USA, says Francis Lazarus.
"On December 23 we had a large barbeque, on December 24 we put up a play of the Nativity and on December 25 we had a long Christmas lunch," he added.
"We had people who were 92 and toddlers who were just two years old who were part of the play, said Francis.
The idea behind such family reunions is to pass on the Christmas tradition to the younger generation, says Francis.
<< If you too had a special get together, feel free to mail us short notes and pictures. Mail to – mytimesedit@gmail.com.