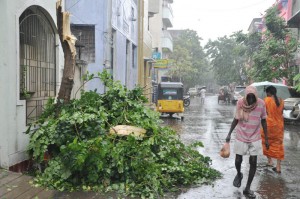 Cyclone 'Thane' which hit the coast of the state late on Thursday, disrupted life of people in this neighbourhood too.
People who live in huts in Srinivasapuram, a seaside hamlet in Foreshore Estate.
Many families moved out as the waves lashed the shore and water covered most parts of the beach.
The scene was the same on the coast of Nochikuppam, near the Light House, up north.
The main road from the MTC bus terminus in Foreshore Estate was in knee-deep water.
Councillor Rajalakshmi Prabhakar of Ward 173 arranged for food packs to be given to the affected people on Friday morning.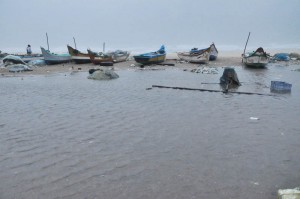 The fury of the cyclone was severe in this part of San Thome. A roadside tree feel down near the KFC restaurant and San Thome High Road was flooded with rainwater.
Water flooded all the streets in Mandavelipakkam and the huge playground here.
Civic staff were at work on San Thome High Road – tackling the sewage overflow from the drains – a perennial problem that is yet to be addressed well.
Musiri Subramaniam Road was flooded too – making it difficult for people heading to MFAC sabha and to Isabel's Hospital to access the places.
On Thursday evening, floodwater swamped Mandaveli streets creating problems for the hawkers in the market, residents of Vedachala Gardens and nearby colonies.