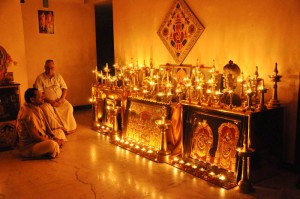 The images of the gods were decorated with oil lamps during the annual "Prabadha Sangeetham" will be held at 14/12, Luz Avenue, 2nd Street, Mylapore.
Concerts are held here everyday till Jan.12 from 5.30 a.m. to 6.30 a.m.
A 24 hours non-stop Akanta Lalitha Sahasranama Parayanam will be held at this place from Dec. 31, 5.30 a.m. to Jan.1 5.30 a.m.
Open to all.
For details call 98402 10892, 98417 29112.