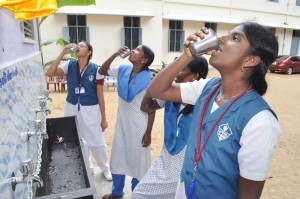 Lady Sivasamy Girls' Higher Sec. School has a new facility to process water –
A reverse osmosis water treatment plant. The facility now provides treated drinking water to the students.
N. Rajasekar, District Governor – 324 A1, Lions Club opened this facility on Nov.24.
Lions Club of Chennai Royal Ashok Nagar has donated the plant, says Ruby Puthotta, Headmistress of the school. It was Shanta Shanmugam the President of the Club who initiated the setting up the plant, when she visited our school, said Ruby.
This plant was constructed at a cost of Rs.2.5 lakhs, she added. The Club has also planted 40 medicinal and flowering saplings. This is the 75th plant installed by the Club.
The school can be reached at 2464 1513.