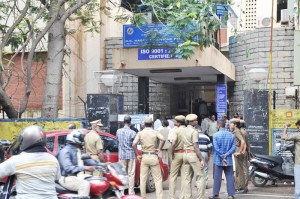 The employees of the BSNL office in R. K. Mutt Road went on a strike on Dec.15.
This is part of a nation wide strike that was initiated by the employees union and officers union, says R. Vijayalakshmi, Assistant Director Secretary, south east zone.
The theme was 'Save BSNL' and the strike was the staffers' campaign to prevent BNSL from being privatised, to bring in new equipment and not to reduce work force, she said.
A police unit was stationed outside the exchange through the day.