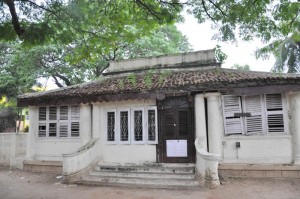 The Kapaleeswarar Temple officials have managed to restore its property in R. A. Puram.
This place located near Sai Baba Temple in Greenways Road was rented out for a film company in 1958 (seen in the photo).
The residents here had been renting this place for several film shooting but failed to pay the rent, says, A. T. Paranjothi, Executive Officer and Asst. Commissioner.
This property with 5 grounds land with a building is worth Rs.25 crores. The authorities moved to court when the residents failed to pay up the rent.
After several attempts to execute the order the authorities led by A. T. Paranjothi managed to take over the property.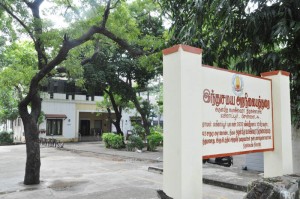 The Cholas, Pandias, Pallavas and Nayak Kings donated many pieces of land for temple use. These were primary agricultural land and later became residential and commercial property, Paranjothi says.
There are about 473 tenants residing in the temple's property. About 60% of them, residential and commercial, are defaulters.
The government has urged us to track these defaulters and recover the property. Some of them have not paid a single rupee from the time they occupied, he added.
Currently we have issued notices to these defaulters. Some of them have agreed to pay their dues while others have moved to Court, the officer said.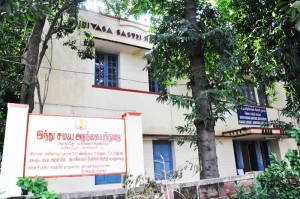 There are certain pieces of land that has been encroached we are also trying to evict them, he added.
The EO, Paranjothi can be reached at 2464 1670, 94433 95296.
(Seen in the photos are the notices erected at Mylapore Club and Sastri)

THE DEFAULTERS
The vast properties of the Sri Kapaleeswarar Temple have been rented and leased to various individual and groups for residential and commercial purposes in the past.
These lands were donated to the temple by the various lords/kings and wealthy people who ruled the southern region, says A. T. Paranjothi, Executive officer and Assist. Commissioner.
The temple authorities are now taking action on defaulters who have failed to pay the rent to the temple.
The defaulters who took its buildings on rent. The figures here denote total amount due are:
1. Kasi Vishwanath, 253, R. K. Mutt Road – Rs.73,73,808
2. C. S. Balachandre Raj, 254, R. K. Mutt Road – Rs.33,76,689
3. Bharatiya Vidya Bhavan, 4, Sannidhi Street – Rs.31,99,500
4. TN Civil Supplies department, Venkatesagraham Street – Rs.31,20,074
5. S. Kalavathi, 820, Anna Salai – Rs.23,99694
6. Jeevan Press, 148, Big Street, Triplicane – Rs.2358938
7. N. Navamani Nadar, 282, R. H. Road – Rs.2178400
8. M. Venkatesan 9, R. K. Mutt Road – Rs.920651
9. P. S. Soomu, 8, R. K. Mutt Road – Rs.911398
10. Select and Co, Venkatesa Agraham Street – Rs.738087
11. M. Thaiyarammal, 9 R. K. Mutt Road – Rs.676774
12. R. Chinnaswami, 256, R. K. Mutt Road – Rs.572331
13. RTO Office, 43, V. C. Garden Street – Rs.567341
14. P. Raman, 44, R. K. Mutt Road – Rs.473488
15. A. R. S. Jalahudin, 253 R. K. Mutt Road – Rs.419609
The defaulters who got land on lease and who built on the lands.  Figures here denote total amount due:
1. Amrutanjan and Co., Luz – Rs.6,45,70,697
2. Mylapore Club, Luz – Rs.3,57,00,847
3. Lakshman, 42, R. K. Mutt Road – Rs.53,74,854
4. Kalathimudaliar, 213, R. K. Mutt Road – Rs.5052765
5. S. M. Girja, 237, R. K. Mutt Road – Rs.4370454
6. H. P. C. L. (Petrol Bunk), 5, R. K. Mutt Road – Rs.3442081
7. R. Krishnamurthy, 43, R. K. Mutt Road – Rs.2718193
8. Karpagavali School, Mangolai – Rs.2288277
9. Visalakshiammal, 36, R. K. Mutt Road – Rs.2018696
10. M. Kuppuswamy, Mangolai – Rs.1738756
11. K. Babu, Mangolai – Rs.1721719
12. S. Bakayammal, 41, R. K. Mutt Road – Rs.877202
13. Neelavanna Mudaliyar, 39, R. K. Mutt Road – Rs.813144
14. P. Pugalyendi, 8. Gaudiya Mutt Road – Rs.483309
15. D. Kupuswamy, Mangolai – Rs.396322
16. Muhammad Iqbal, 253, R. K. Mutt Road – Rs.289230
17. Leelavathi Ammal, 40, R. K. Mutt Road – Rs.235360
Officials said that about 25 grounds opposite Kamadhenu Theatre, i.e. from the Mylapore Club compound to the Pallakkumanyam Street "have been illegally encroached."
This place belongs to the temple and was given on a 99 years lease to Parthasarathi Iyengar in 1901. "The lease ended in 2000 and we found out that Parthasarathi had sub rented the place to different people. About 35 people have encroached on that piece of land and have build up commercial establishments without paying any rent. We have approached to court and will soon evict them," said officials.
Similarly about 76 grounds were rented to the P. S. H. School in 1928. The contract was renewed in 1979 and from then on the temple has been receiving only Rs.1250 per annum as payment, he says. "We have sent a notice and the school has appealed in High Court."